About forging of Kyoei
Forging is a manufacturing technique to form metals by heating and hammering them.
One of the major examples of forging is the making of Japanese swords.
At Kyoei Forging Works, we integrate traditional technological capability and up-to-date technology and facilities to manufacture items with complicated shapes, keeping strength as forged items. We manufacture a wide variety of machinery parts like conveying parts, auto parts, and large agricultural machinery parts. We offer our customers high quality products by conducting strict quality inspections multiple times.
POINT 01
Advanced forging technique and up-to-date facilities
We integrated the forging technique of 90 years and up-to-date technology and facilities.
POINT 02
We respond to a wide variety of requests
By forging by utilizing technology and facilities, we are available for complicated shapes thought to be difficult to make.
POINT 03
Quality management by multiple strict inspections
We conduct strict inspections multiple times to achieve high quality standard.
Product processing of forging items
Let us introduce the process of how one product is completed by forging. At Kyoei Forging Works, we start from designing the products and creating tooling, and with our accumulated technological capability and facilities, forging processing is conducted. Our processing department handles flexibly the shapes and sizes that are difficult to be handled done by forging. After conducting multiple strict inspections and finishing, high quality products are delivered to the customers.
Facilities of Kyoei Forging Works
At Kyoei Forging Works, we adopt the most advanced machinery and equipment to conduct high accuracy manufacturing. Please see our facilities that can do different types of works from designing and making molds to manufacturing.
About new factory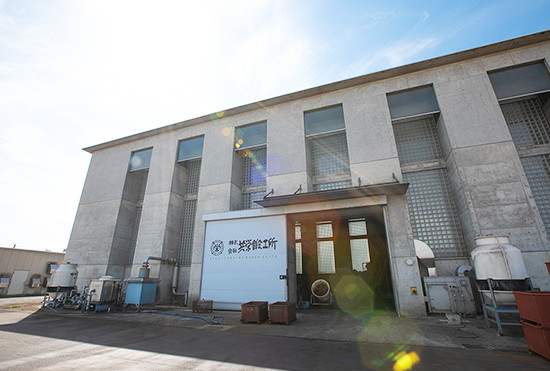 A hybrid forging factory, where friendliness to the environment of surrounding areas and productivity coexist
Forging noise is about the same level as engines of jet airplanes and its vibration corresponds to the seismic intensity of 4.
Our factory has special structure for specializing in suppressing noise and vibration by using airdrop hammer.
It is an innovative noise and vibration controled factory that is attracting attention both domestically and internationally.
List of facilities
Machining center

Crank press

Knuckle press

Air drop hammer

High frequency induction heating furnace

Automated warehouse system
List of facilities
Type
Name
Specification
Number
Remarks
Forging
High speed airdrop hammer
N800P(3.0t)
1
NSC (Nittan Sakae Corporation)
High speed airdrop hammer
N550P(2.0t)
1
NSC (Nittan Sakae Corporation)
High speed airdrop hammer
N500P(1.75t)
1
NSC (Nittan Sakae Corporation)
High speed airdrop hammer
N350P(1.25t)
2
NSC (Nittan Sakae Corporation)
Trimming press
125~200t
5
NSC (Nittan Sakae Corporation)
High frequency induction heating furnace
200~350kw
5
Uchino
Screw engine compressor
150~165kw
12
Hokuetsu Industries
Shearing press
100t,200t
2
Endo, KS-TECH
Molds
Vertical type milling cutter
#1 ½~#4
2
Makino, OKK
Horizontal type milling cutter
#4
1
OKK
Numerical control milling cutter
#3 PRM3V, Rakuraku Mill
1
OKK
Machining center
#5~#5 1/2 VM5Ⅲ,VM660R
2
OKK
Numerical control electrical discharge machining
C4-M55K,C7-M55J
2
Mitsubishi Electric
Numerical control wire electrical discharge machining
SP43,DU043
2
Makino
Sandblaster
MK-5
1
FujiSS
Vertical type machining center
V-55,V-56,V-56i
3
Makino
Surface grinding machine
#2,#4
2
Mitsui High-tec, Nikko
Radial arm drill press
TRD-800C
1
TOA
Tabletop drill press
KRDG-340FB
1
KIRA
Automated warehouse system
ON-S-132P
1
Daifuku
3D CAD/CAM
EVC110,PC
3
Euklid
2D CAD/CAM
MYPAC, Compact CAM
2
Kuraki, Procast
Processing
Automatic feeding drill press
ADF-410,KRDG-420P
5
Ashina, KIRA
Knuckle press
300~600ton
4
Komatsu Industries
Vertical type milling cutter
#3
26
OKK
Crank press
70t~120t
5
Komatsu Industries
Servo press
150t
1
Amada
Link processing machine
ZR-6P
1
Fujiya Seisakujo
Inspection and finishing
Continuous magnetic particle inspection equipment
H-8
1
Denshijiki Industry
Microscope (metallograph)
VHX-950F
1
Keyence
Rockwell hardness tester
3R
1
Imai Testing Machine
Brinell hardness tester
NBH-3
1
Nakai Precision Machinery
Shot blast machine
200~1200
4
Sintokogio
Corrosion inhibitor conveyor line
MZC, MLC TYPE
6
Mesh Giken
Riveting machine
US series, MB-O/100
4
Yoshikawa Iron Works, Techno Marushichi
3D measuring machine
Hand hold probe CMM XM-1500,YL-350
2
Keyence
3D printer
203(W)×203(D)×152(H)mm
1
Keyence
The mobile pallet racking system
468 Pallet
1
Daifuku